Chelsea Gagal Juara, Air Mata David Luiz Tumpah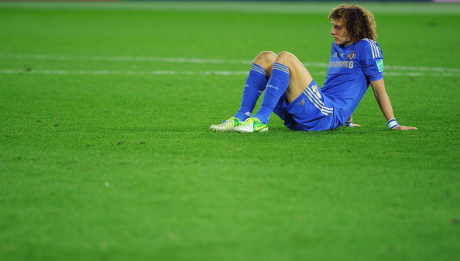 Kekalahan atas Corinthians di final Piala Dunia Antarklub menyisakan kekecewaan berat bagi para penggawa Chelsea. David Luiz bahkan sampai menangis lantaran hasil pahit tersebut.
Dalam final Piala Dunia Antarklub yang digelar di Stadion Internasional Yokohama, Minggu (16/12/2012) petang WIB, The Blues takluk dengan skor tipis 0-1 dari Corinthians. Gol tunggal dalam pertandingan tersebut dilesakkan Jose Paolo Guerrero pada menit 69.
Luiz mengaku telah memimpikan sejak lama untuk memenangi gelar tersebut. Akan tetapi, lantarannya mimpinya tak kesampaian, bek asal Brasil tersebut hanya bisa menangis meratapi nasib.
"Saya punya hati yang terluka. Saya menangis, saya sangat ingin menang (dalam laga tersebut). Saya bermimpi suatu hari nanti bermain di final Piala Dunia Antarklub. Saya bermain di klub besar dan klub-klub besar (sering) memenangi laga penting dan gelar prestisius," jelas Luiz dilansir The Sun.
"Anda dapat menangis semalaman, (sebab) esok adalah hari yang lain. Perbedaannya hanya soal gol (dalam laga itu), sebab kami memiliki banyak sekali peluang. Hanya detil yang membedakan. Saya ucapkan selamat kepada Corinthians. Tapi saya tak merasa bahagia, saya sangat ingin memenangkan gelar tersebut," lugasnya.
Catatan statistik memperlihatkan dalam laga tersebut "Si Biru" memang tampil lebih dominan. Juara Liga Champions musim lalu itu memiliki 54% penguasaan bola dan 14 tembakan yang enam di antaranya mengarah ke gawang.
12BET